[an error occurred while processing this directive] I'm Danny Freire, and since 2000 I've been providing Web design and development services to all types of clients, big and small. From logo design to unique graphical user interfaces, from complete site development to contract work as part of a large team, my broad range of experience has helped all kinds of clients bring their visions to the Web.
I invite you to visit my online portfolio to view selected projects. To begin a dialogue about your project or to request more information (including my resume and references), please contact me today. If you know of someone who might be interested in my services, please tell a colleague today.
Thank you for your interest. I look forward to helping you grow your business.
Featured Project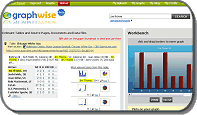 Graphwise